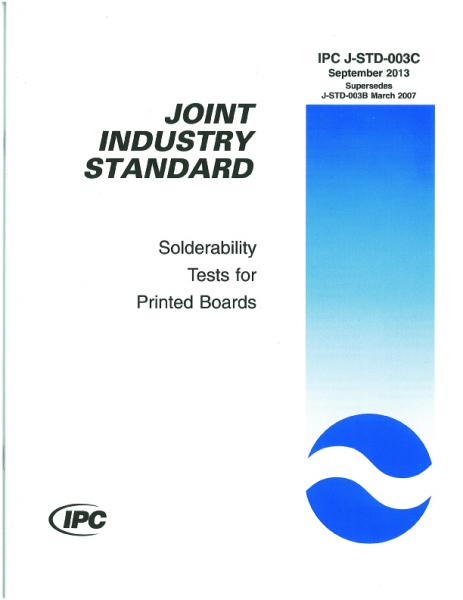 IPC J-STD-003C Solderability Tests for Printed Boards
SKU

J003-STD-0-P-W1-EN-C
Price $213.00

213.00
More Details
Related Items
IPC J-STD-003C Solderability Tests for Printed Boards More Details
J-STD-003C With Amendment 1 prescribes test methods, defect definitions and illustrations for assessing the solderability of printed board surface conductors, attachment lands, and plated-through holes utilizing either tin-lead or lead-free solders. This standard is intended for use by both vendor and user. The objective of the solderability test methods described in this standard is to determine the ability of printed board surface conductors, attachment lands, and plated-through holes to wet easily with solder and to withstand the rigors of the printed board assembly processes. This standard describes test methods by which both the surface conductors (and attachment lands) and plated-through holes may be evaluated for solderability. Revision "C" contains the latest information about GR&R (gauge reproducibility & repeatability) of the solderability tests as well as updated illustrations.
Amendment 1 corrects editorial errors as well as adds clarifying statements to many areas of the document. Released 2014, 27 pages
Preview the table of contents .pdf file.
Related Items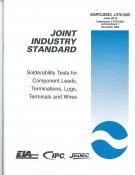 IPC J-STD-002E Solderability Tests for Component Leads, Terminations, Lugs, Terminals and Wires
Hard copy manual. IPC-J-STD-002E prescribes test methods, defect definitions, acceptance criteria, and illustrations for assessing the solderability of electronic component leads, terminations, solid wires, stranded wires, lugs, and tabs.
SKU J002-STD-0-P-0-EN-E
Price $176.00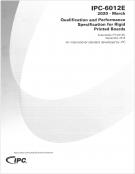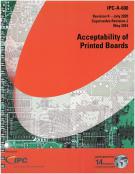 IPC-A-600K Acceptability of Printed Boards
Hard copy manual. New revision K. This full-color document provides photographs and illustrations of the acceptable and nonconforming conditions on bare printed boards.
SKU A600-STD-0-P-0-EN-K
Price $334.00