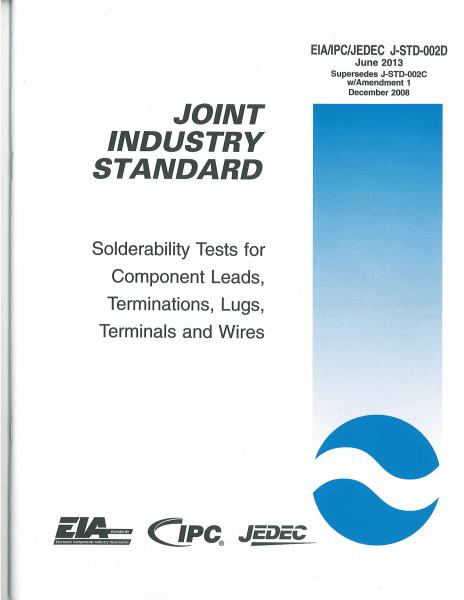 IPC J-STD-002E Solderability Tests for Component Leads, Terminations, Lugs, Terminals and Wires
SKU

J002-STD-0-P-0-EN-E
Price $144.00

144.00
More Details
Related Items:
IPC J-STD-002E Solderability Tests for Component Leads, Terminations, Lugs, Terminals and Wires More Details
IPC-J-STD-002E prescribes test methods, defect definitions, acceptance criteria, and illustrations for assessing the solderability of electronic component leads, terminations, solid wires, stranded wires, lugs, and tabs. The IPC-J-STD-002E standard also includes a test method for the resistance to dissolution/dewetting of metallization. IPC-J-STD-002E is intended for use by both supplier and user. The IPC-J-STD-002E standard was developed by the following three organizations: ECIA, IPC and JEDEC. Number of Pages: 65 Release Date: 2/26/2018.
Preview the table of contents .pdf file.
Related Items: