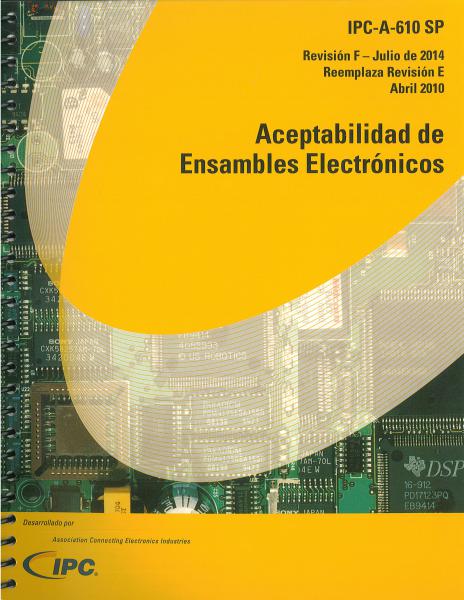 IPC-A-610F - Spanish Language
SKU

A610-STD-0-P-0-SP-F
Price $176.00

176.00
More Details
Related Items:
IPC-A-610F - Spanish Language More Details
Spanish Language document. IPC-A-610 is the most widely used electronics assembly standard in the world. A must for all quality assurance and assembly departments, IPC-A-610F illustrates industry-accepted workmanship criteria for electronics assemblies through detailed statements reflecting acceptable and defect conditions, supported by full-color photographs and illustrations. This revision includes two new SMT termination styles, as well as changes in plated-through hole fill and BGA void criteria. Additionally, wherever possible statements were modified to make readability easier and to enhance understanding — all without eliminating any requirements.
Major topics include flex attachment, board-in-board, part-on-part, both lead-free and tin-lead criteria, component orientation and soldering criteria for through hole, SMT, cleaning, marking, coating and laminate requirements. IPC-A-610 is invaluable for all inspectors, operators and trainers. Revision F has 814 photos and illustrations of acceptability criteria — 86 of them new or updated. The document synchronizes to the requirements expressed in other industry consensus documents and is most often used with the material and process standard IPC J-STD-001. 424 pages. Released February 2015.
El IPC-A-610 es el estándar de ensambles electrónicos más utilizado del mundo. Es indispensable para todos los departamentos de aseguramiento de calidad y de ensamble, el IPC-A-610F ilustra los criterios de calidad aceptados por la industria para ensambles electrónicos a través de descripciones detalladas reflejando las condiciones aceptables y de defecto, apoyado por fotografías a todo color e ilustraciones. Esta revisión incluye dos nuevos tipos de terminaciones SMT y también cambios en el llenado de orificios through-hole metalizados y en los criterios para vacíos en BGAs. Además, siempre cuando ha sido posible se han modificado las descripciones para facilitar la lectura y mejorar la comprensión - todo sin eliminar ningún requisito.
Los principales temas incluyen criterios para la colocación de circuitos flexibles, tarjeta en tarjeta, componente sobre componente, soldadura con y sin plomo, orientación de componentes y criterios de soldadura para orificios through-hole, SMT, limpieza, marcado, recubrimientos y requisitos del laminado. El IPC-A-610 es invaluable para todos los inspectores, operario e instructores. La revisión F tiene 814 fotos e ilustraciones de los criterios de aceptabilidad - 86 de ellos son nuevos o actualizados. El documento sincroniza los requisitos expresados en otros documentos de consenso de la industria y se utiliza a menudo con el estándar de materiales y procesos IPC J-STD-001. 424 páginas. Publicado en Julio de 2014. Traducido en Febrero de 2015.
Related Items: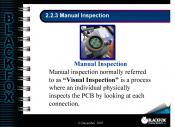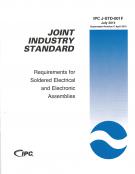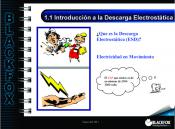 ESD Training Materials - Spanish Language
Training Materials in Spanish. Presents the basics of ESD and precautionary measures required to avoid electrostatic damage to components.
SKU TM-ESDSPNSH
Price $125.00