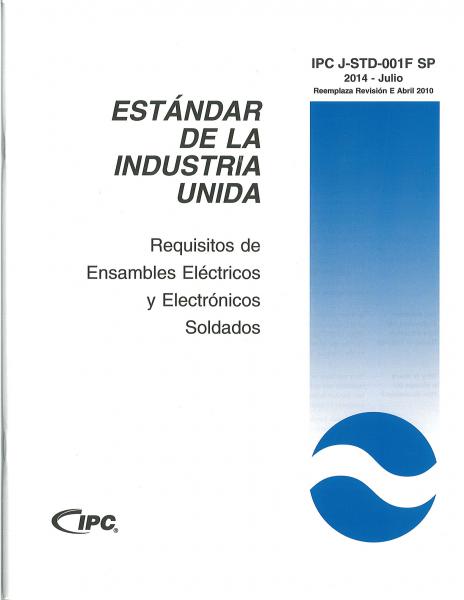 IPC J-STD-001F - Spanish Language
SKU

J001-STD-0-P-0-SP-F
Price $176.00

176.00
More Details
Related Items:
IPC J-STD-001F - Spanish Language More Details
DoD Adopted! Download the adoption notice (.pdf)
Spanish Language. IPC J-STD-001F is recognized worldwide as the sole industry-consensus standard covering soldering materials and processes. This revision includes support for both traditional solder alloys and for lead-free manufacturing. Examples of some of the significant changes are revision to plated-through hole, PTH, minimum fill requirements; criteria for two new SMT termination types; and expanded conformal coating criteria. Whenever possible, the criteria descriptions have been adjusted to make them easier to understand for materials, methods and verification for producing quality soldered interconnections and assemblies. The requirements for all three classes of construction are included. Full color illustrations are provided for clarity. This standard fully complements IPC-A-610F and is supported by IPC-HDBK-001. 70 pages. Released March 2015.
El IPC J-STD-001 es reconocido a nivel mundial como el único estándar de consenso de la industria que cubre los materiales y procesos de soldadura. Esta revisión incluye soporte tanto para aleaciones de soldadura convencionales como para la fabricación libre de plomo. Ejemplos de algunos de los cambios más significativos son la revisión de orificios metalizados, PTH, requisitos de llenado mínimo; criterios para nuevos tipos de terminaciones SMT y criterios ampliados de barnizado (conformal coating). Siempre cuando ha sido posible, las descripciones de los criterios, para los materiales, métodos y verificación para producir interconexiones soldadas y ensambles de calidad, se han ajustado para hacerlas más fáciles de entender. Se incluyen los requisitos para las tres clases de construcción. Se proporcionan ilustraciones a todo color para mejor claridad. Este estándar se complementa plenamente con el IPC-A-610F y tiene el soporte del IPC-HDBK-001. 70 páginas. Publicado en Julio de 2014. Traducido en Marzo de 2015.
Related Items: