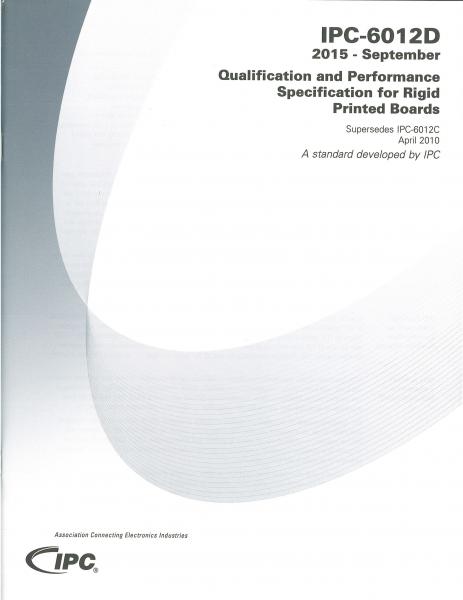 IPC-6012D Qualification and Performance Specification for Rigid Printed Boards
SKU

6012-STD-0-P-0-EN-D
Price $213.00

213.00
More Details
Related Items
IPC-6012D Qualification and Performance Specification for Rigid Printed Boards More Details
This specification covers qualification and performance of rigid printed boards, including single-sided, double-sided, with or without plated-through holes, multilayer with or without blind/buried vias and metal core boards. It addresses final finish and surface plating coating requirements, conductors, holes/vias, frequency of acceptance testing and quality conformance as well as electrical, mechanical and environmental requirements. Revision D incorporates many new requirements in areas such as HASL coatings, alternative surface finishes, edge plating, marking, microvia capture and target lands, copper cap plating of filled holes, copper filled microvias and dielectric removal. For use with IPC-6011. Supersedes IPC-6012C and IPC-6016
Preview the table of contents .pdf file.
IPC-6012DS Space Hardware Applications available now as a separate document. Included in the IPC 6010-series, IPC-C-105 and the IPC-C-1000 Collections
Related Items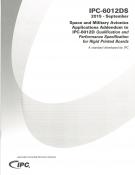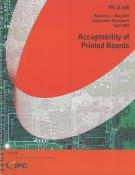 IPC-A-600J Acceptability of Printed Boards
Hard copy manual. This full-color document provides photographs and illustrations of the acceptable and nonconforming conditions on bare printed boards.
SKU A600-STD-0-P-0-EN-J
Price $281.00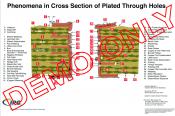 PCB Multi-Issue Microsection Wall Poster
Dubbed the "nightmare microsection," this full-color, 24x36-inch wall poster identifies 42 phenomena that can be seen in cross-sections of plated-through holes.
SKU MICRO-PST-0-P-0-EN-0
Price $101.00