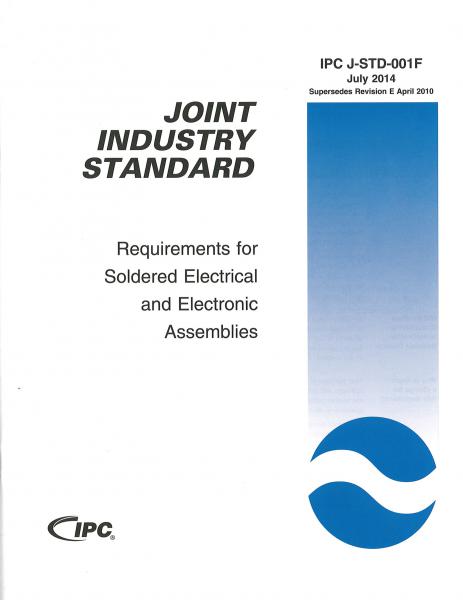 IPC J-STD-001F Requirements for Soldered Electrical and Electronic Assemblies
SKU

J001-STD-0-P-0-EN-F
Price $176.00

176.00
More Details
Related Items:
IPC J-STD-001F Requirements for Soldered Electrical and Electronic Assemblies More Details
DoD Adopted! Download the adoption notice (.pdf)
IPC J-STD-001F is recognized worldwide as the sole industry-consensus standard covering soldering materials and processes. This revision includes support for both traditional solder alloys and for lead-free manufacturing. Examples of some of the significant changes are revision to plated-through hole, PTH, minimum fill requirements; criteria for two new SMT termination types; and expanded conformal coating criteria. Whenever possible, the criteria descriptions have been adjusted to make them easier to understand for materials, methods and verification for producing quality soldered interconnections and assemblies. The requirements for all three classes of construction are included. Full color illustrations are provided for clarity. This standard fully complements IPC-A-610F and is supported by IPC-HDBK-001. 70 pages. Released July 2014.
Preview the table of contents .pdf file.
Included in the IPC-C-103 & the IPC-C-1000 Collections
Related Items: