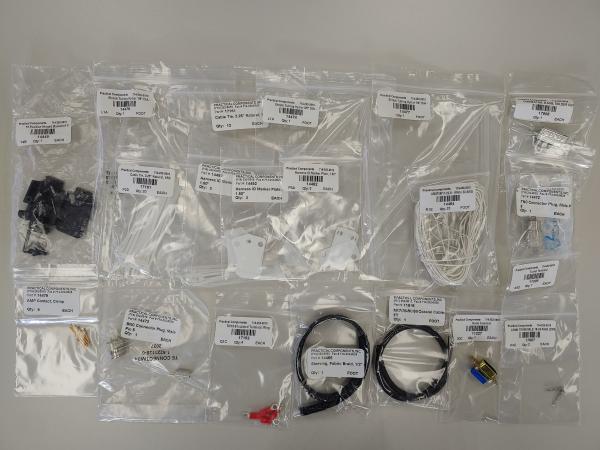 IPC/WHMA-A-620 Hands-On Cable Parts Kit
SKU

17905
Price $280.00

280.00
More Details
Related Items
IPC/WHMA-A-620 Hands-On Cable Parts Kit More Details
Exact pricing may vary due to demand
Contact us for shipping estimate - MADE ON DEMAND
18064 The PC-A620-Parts Only-RevD Kit includes all parts needed to train and practice wire and cable harness building skills. Meets IPC/WHMA-A-620 revision D Hands-On Module requirements for hands-on classroom certification.
This kit enables hands on training in the following areas of wire harness assembly: Cable and wire dimensioning, tolerances and preparation, Crimp Terminations, Soldered terminations, Splices, Connectorization, Coaxial cable assembly, and Wire bundle securing.
Each kit comes individually packaged with all components bagged and tagged for easy identification.
Perfect for classroom settings. Tools and Manuals sold separately.
PC-A620-Parts Only-RevD
Part Description
Qty Per Kit
22 AWG Stranded Wire
23'
D-Sub Connector 9 pos
1
D-Sub Connector 15 pos, Cup
1
Contact Pin 24-20 AWG Crimp
9
Ring Lug #6 Crimp
4
Turret Terminal
1
Hook Terminal
1
Backshell and Hardware
1
Open Barrel Contact
2
Coax Cable
10"
BNC Coax Connector
1
TNC Coax Connector
1
Cable Tie 4"
30
Marker Plate
6
Sleeving Braid 1/2"
8"
Shrink Tubing 1/8"
1'
Shrink Tubing 1/4"
8"
Shrink Tubing 3/8"
8"
Related Items