IPC/WHMA-A-620E Requirements and Acceptance for Cable and Wire Harness Assemblies
SKU

A620-STD-0-P-0-EN-E
Price $334.00

334.00
More Details
Related Items
IPC/WHMA-A-620E Requirements and Acceptance for Cable and Wire Harness Assemblies More Details
IPC/WHMA-A-620E is the only industry-consensus standard for Requirements and Acceptance of Cable and Wire Harness Assemblies. IPC/WHMA-A-620E describes materials, methods, tests and acceptance criteria for producing crimped, mechanically secured and soldered interconnections and the related assembly activities associated with cable and harness assemblies. IPC/WHMA-A-620E was developed by IPC and the Wire Harness Manufacturers Association (WHMA) (An affiliate of IPC). 388 pages. Released October 2022.
Preview the table of contents .pdf file.
Related Items

Wire & Cable Training Materials Bundle
The Wire & Cable Training Materials Bundle includes all Instructional Training Materials relevant for teaching students working in Wire & Cable Assembly.
SKU TM-WIREBUND
Price $425.00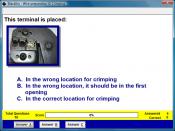 Wire Crimping Assessment
This software will assess an individual's knowledge of crimping cable and wire.
SKU AS-WIRECRMP
Price $39.95