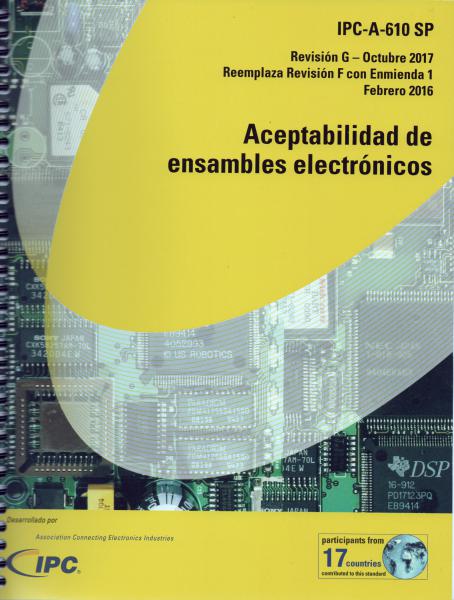 IPC-A-610G - Spanish Language
SKU

A610-STD-0-P-0-SP-G
Price $334.00

334.00
More Details
Related Items
IPC-A-610G - Spanish Language More Details
Spanish language translation of the IPC-A-610G
IPC-A-610 es el documento más ampliamente usado de aceptación de ensambles electrónicos. Actualizado con participantes de 17 países proporcionando información y experiencia, este documento trae los últimos criterios junto con muchos gráficos nuevos y revisados a la industria. Esto es un indispensable para inspectores, operadores y otros con un interés en los criterios de aceptación para ensambles electrónicos. El IPC-A-610 está desarrollado en sinergia con el J-STD-001, y por primera vez con esta revisión, también el IPC/WHMA-A-620.
IPC-A-610 is the most widely used electronics assembly standard in the world. A must for all quality assurance and assembly departments, IPC-A-610G illustrates industry-accepted workmanship criteria for electronics assemblies through detailed statements reflecting acceptable and defect conditions, supported by full-color photographs and illustrations. Major topics include flex attachment, board-in-board, part-on-part, both lead-free and tin-lead criteria, component orientation and soldering criteria for through hole, SMT, cleaning, marking, coating and laminate requirements IPC-A-610 is invaluable for all inspectors, operators and trainers. The document synchronizes to the requirements expressed in other industry consensus documents and is most often used with the material and process standard IPC J-STD-001. 440 pages. Released October 2017.
Preview the table of contents .pdf file.
Related Items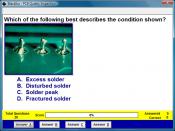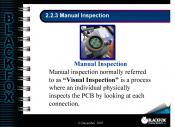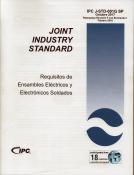 IPC J-STD-001G - Spanish Language
Hard copy manual. This is the Spanish language translation of the J-STD-001G. Provee requisitos para materiales de soldadura y procesos para ensambles.
SKU J001-STD-0-P-0-SP-G
Price $277.00