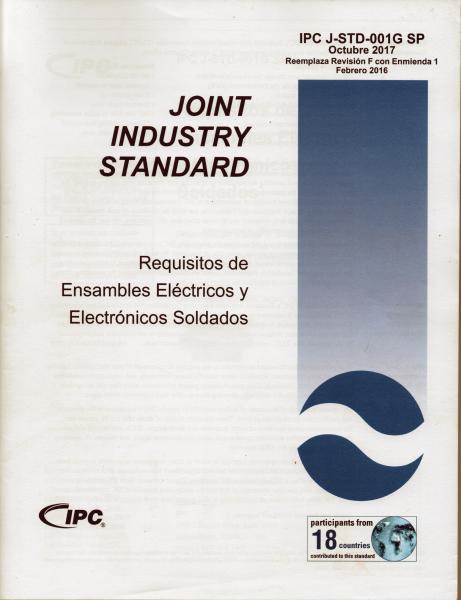 IPC J-STD-001G - Spanish Language
SKU

J001-STD-0-P-0-SP-G
Price $277.00

277.00
More Details
Related Items
IPC J-STD-001G - Spanish Language More Details
Spanish language translation of the IPC J-STD-001G
J-STD-001 es reconocido globalmente por sus criterios en procesos de soldadura y materiales. Actualizado con participantes de 18 países proporcionando información y experiencia, este documento trae los últimos criterios junto con nuevos gráficos a la industria para facilitar el uso y la comprensión. Este es un documento a tener para aquellos en la industria electrónica con un interés en el proceso y criterios de aceptación para ensambles eléctricos y electrónicos. J-STD-001 se desarrolla en sinergia con IPC-A-610 y es apoyado por IPC-HDBK-001 para aquellos que desean información adicional y explicación sobre los requisites.
J-STD-001 is recognized globally for its criteria on soldering processes and materials. Updated with participants from 18 countries providing input and expertise, this document brings the latest criteria along with new graphics to the industry for ease of use and comprehension. This is a must-have for those in the electronics industry with an interest in the process and acceptance criteria for electrical and electronic assemblies. J-STD-001 is developed in synergy with IPC-A-610 and is supported by IPC-HDBK-001 for those wanting additional information and explanation on the requirements. 92 pages. Released October 2017.
Preview the table of contents .pdf file.
Related Items