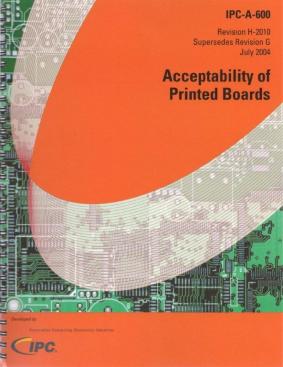 The definitive illustrated guide to printed circuit board acceptability! This full-color document provides photographs and illustrations of the target, acceptable and nonconforming conditions that are either internally or externally observable on bare printed boards. Make sure your operators, inspectors, and engineers have the most current industry consensus information. With over 90 new or revised photographs and illustrations, revision H provides new coverage on topics such as copper wrap plating, copper cap plating of filled holes, and hole wall/barrel separation along with updated and expanded coverage for measling of printed boards, delamination and haloing, laminate voids/cracks, etchback, blind and buried via fill, and flexible circuits. The document sychronizes to the acceptability requirements expressed in IPC-6012C and IPC-6013B. 157 pages. Released April 2010.
Preview the table of contents .pdf file.
Included in the IPC-C-102, IPC-C-105 and the IPC-C-1000 Collections
Download the Fact Sheet on Changes From Previous Version .pdf file.