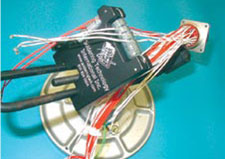 Wire Holding Fixture
SKU

405-1026
Price $55.00

55.00
More Details
Related Items
Wire Holding Fixture More Details
405-1026 Have you ever struggled to secure wires without the use of a good Wire Holder? We have just the solution. The new Wire Holding Fixture provides stable support for multiple wires. This fixture helps free the operators hands to perform soldering or other operations while keeping the wires secure in the correct location. Wires can be placed in either vertical or horizontal supports for the best alignment. The fixture is compatible with many types of fixture vice heads such as "PanaVice" Models 366 and 376 or others with a 1 3/8" X 1/4" opening. It is great for production training or soldering/assembly operations.
Related Items

Wire & Cable Training Materials Bundle
The Wire & Cable Training Materials Bundle includes all Instructional Training Materials relevant for teaching students working in Wire & Cable Assembly.
SKU TM-WIREBUND
Price $425.00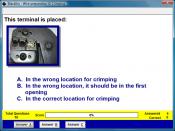 Wire Crimping Assessment
This software will assess an individual's knowledge of crimping cable and wire.
SKU AS-WIRECRMP
Price $39.95