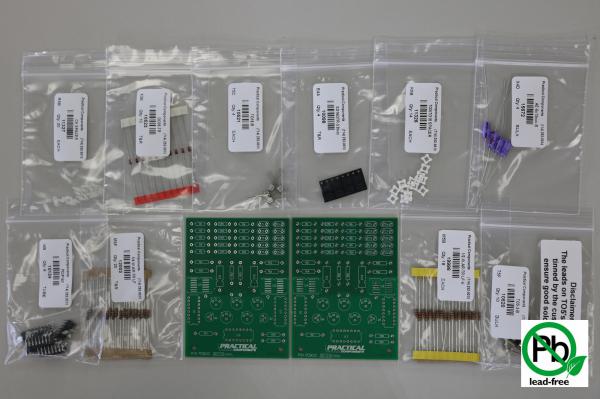 PC013 LEAD FREE Through-Hole Training Kits - 2 PCBs & Parts
SKU

16792
Price $50.00

50.00
More Details
Related Items:
PC013 LEAD FREE Through-Hole Training Kits - 2 PCBs & Parts More Details
The PC013 Lead-Free Hand Solder Practice Kit is an effective way to evaluate or train employees and students in through-hole and terminal soldering. This versatile kit comes with 2 PCBs, a variety of through-hole components, terminals and wires and each kit is conveniently boxed with components individually bagged and labeled for easy identification.
Always in stock and ready for shipment, this kit is ideal for classroom settings.
PC013 Complete Through-Hole Solder Training Kit
Part Number
Qty Per Kit
PCB013
2
Turret Terminal
15
Bifurcated Terminal
15
Hook Terminal
15
Pierced Terminal
15
Cup Terminal
15
DO35
10
AE-5x12
4
CK05
20
CK05 Spacer
20
1/4-W-AR
20
1/2-W-AR
18
DIP16
6
TO5
10
TO18
4
TO5/18 Spacer
14
SO16GT-5.6mm
4
20 Gauge Wire
10'
22 Gauge Wire
10'
26 Gauge Wire
10'
Kit Order Number:
PC013-K
Related Items: