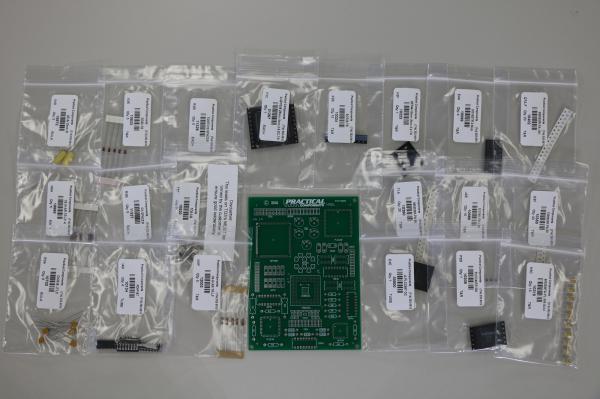 PC009 Mixed Technology Kit - PCB & Parts
SKU

19266
Price $40.00

40.00
More Details
Related Items:
PC009 Mixed Technology Kit - PCB & Parts More Details
The PC009 Mixed Technology PC Board and Kit has surface mount components and through-hole components. This kit's primary use is for hand soldering training or certification. Through- hole components are placed in close proximity to surface mount components to represent real soldering situations. Components are individually bagged and identified for component recognition.
Practical Components Solder Training Kits are the ideal solution for in-house training, IPC certification, recertification and Lead Free Solder training. These kits improve soldering skills in a cost effective way, Improving quality and throughput in both production and rework.
PC009 Hand Soldering Kit
Part Description
Quantity Per Kit
PCB009 HASL FINISH
1
QFP208-28mm-.5mm-2.6mm-DC
1
SOT23-TR
10
PLCC44
1
PLCC68
1
SOD80-TR
10
SO16GT-3.8mm
4
6032SMTA-TR
10
0805SMR-TR
20
1206SMR-TR
20
0603SMR-TR
20
QFP44-10mm-.8mm-3.2
1
DIP16T
4
1/4 Watt Axial Resistor
5
1/2 Watt Axial Resistor
5
CK05
5
T05
5
5 x 11 Axial Electrolytic
2
DO35
5
Kit Order Number
PC009-0-01-HASL BOARD
Related Items: