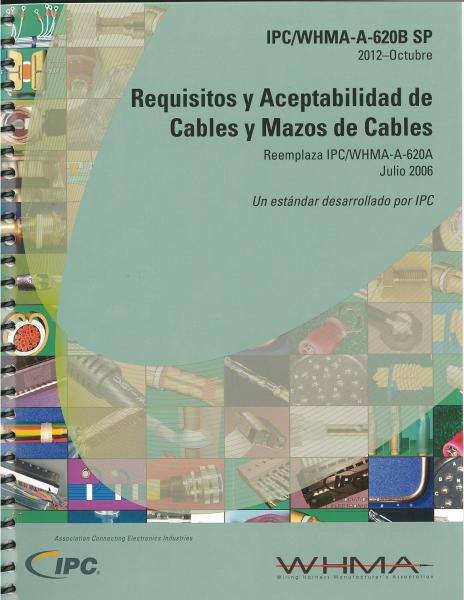 IPC/WHMA-A-620B - Spanish Language
SKU

A620-STD-0-P-0-SP-B
Price $155.00

155.00
IPC/WHMA-A-620B - Spanish Language More Details
This is the Spanish language translation of IPC-WHMA-A-620B
Includes greatly expanded criteria for molding, potting, splicing, crimp contacts without insulation support, inline insulation displacement connectors, connectorization, rigid and conformable cable, flexible sleeving, broomstitching, testing, and more!
Revision B remains the only industry-consensus standard for Requirements and Acceptance of Cable and Wire Harness Assemblies. IPC and the Wire Harness Manufacturers Association (WHMA) continued to work together to develop this significant update.
This Revision now has 682 full-color pictures and illustrations – 125 are new or updated. Included in the 19 chapters are criteria for wire prep, soldering to terminals, crimping of stamped and formed contacts and machined contacts, insulation displacement connectors, ultrasonic welding, splicing, connectors, molding, marking, coax/biax cables, wrapping/lacing, shielding, assembly and wire-wrap terminations. 400 pages. Released October 2012.
Preview the table of contents .pdf file.
La revisión B sigue siendo el único estándar de consenso de la industria para los requisitos y la aceptabilidad de cables y mazos de cabes. IPC y la Wire Harness Manufacturer Association (WHMA) han seguido trabajando juntos para desarrollar esta importante actualización..
Incluye criterios ampliados para el moldeado, encapsulado, empalmes, contactos de compresión sin soporte de aislamiento, conectores en línea con desplazamiento del aislamiento, conectorización, cables rígidos y flexibles, fundas flexibles, atados múltiples estilo retama, pruebas y mucho más.
Esta revisión ahora tiene 682 imágenes e ilustraciones a todo color - 125 de ellas son nuevas o actualizadas. Los 19 capítulos incluyen criterios para la preparación de los cables, soldadura de terminales, crimpado de contactos troquelados y mecanizados, conectores de desplazamiento del aislamiento, soldadura por ultrasonidos, empalmes, conectores, moldeado, marcado, cables coaxiales y biaxiales, envueltos/enlazados, apantallamiento, ensamble y terminaciones de grapinado. 400 páginas. Publicado en Octubre del 2012. Traducido en Noviembre del 2012.