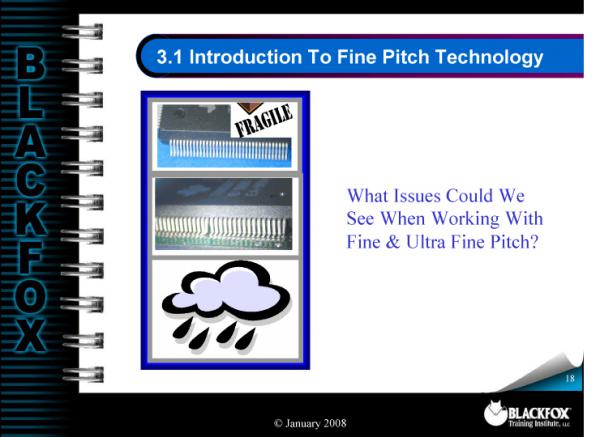 SMT Fine Pitch Soldering Training Materials
SKU

TM-SMTFPSLD
Price $100.00

100.00
SMT Fine Pitch Soldering Training Materials More Details
This course addresses the fundamentals of hand soldering fine pitch and ultra fine pitch surface mount components. Includes solder joint acceptability criteria. Soldering exercises include step-by-step pictorials for the installation and soldering/touch-up of components.
This item download includes the following instructional training materials:
Instructor Guide (.pdf)
Student Guide (.pdf)
Power Point Visual Slideshow (.ppt)
Practical Skill Exams (.pdf)
Written Exams & Answer Sheets (.pdf)
Certificate Template (brandable .ppt)
Our instructional Training Materials are presented to you in an electronic, downloadable format and allow unlimited printing or viewing for one facility with no annual fees or subscription charges - just a single, one time payment.
The image above is an actual screenshot of one Power Point slide from the materials associated with this course.