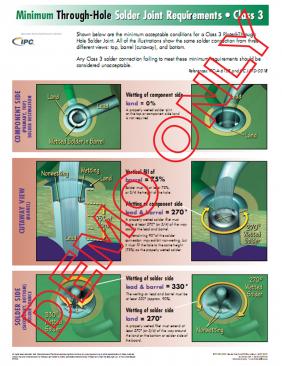 Through-Hole Class 3 Solder Joint Evaluation Wall Poster - Rev G
SKU

PTH3-PST-0-P-0-EN-G
Price $79.00

79.00
Through-Hole Class 3 Solder Joint Evaluation Wall Poster - Rev G More Details
This updated full-color, 20 x 28-inch (51 x 71 cm) wall poster visually defines minimum/maximum Class 3 through-hole solder joint acceptability requirements from Revision G of the IPC-A-610 and J-STD-001 industry standards. Containing high-quality computer graphics, this poster depicts complex through-hole solder joint requirements so clearly, that all operators and inspectors can easily understand and apply this important criteria.
Bring technically accurate, industry-consensus acceptability standards to your training room or inspection area with this highly visual learning and reference tool. This product includes one poster, for Class 3. (Also available in a Class 2 version, part number: P-PTH2-G)
Note: Free Review is an Adobe Acrobat ".pdf" download. Left-click on Free Review button to launch PDF viewer, or right-click and choose "Save Target As," or the equivalent, to download file (0.3MB). Please be sure that your pop-up blocker is turned off.