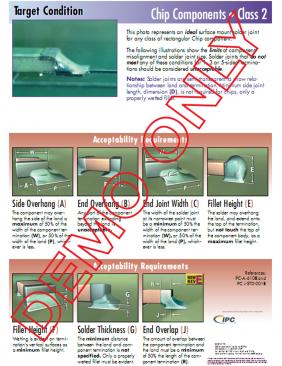 SMT Class 2 Solder Joint Evaluation Wall Posters (Set of 3) - Rev G
SKU

SMT2-PST-0-P-0-EN-G
Price $158.00

158.00
SMT Class 2 Solder Joint Evaluation Wall Posters (Set of 3) - Rev G More Details
What better way to demonstrate to your employees that "Inspection is Everyone's Job," than IPC's Surface Mount Evaluation Wall Posters? Utilizing high-quality computer graphics and Class 2 acceptability criteria from Revision G of the IPC-A-610 and J-STD-001 industry standards, these 20 x 28-inch (51 x 71 cm) posters serve as a constant reminder that quality is Job #1.
This three-poster set includes one poster each for Class 2 Chip, Gull Wing and J-Lead component requirements. (Also available in a Class 3 version, part number: P-SMT3-G)
Note: Free Review is an Adobe Acrobat ".pdf" download. Left-click on Free Review button to launch PDF viewer, or right-click and choose "Save Target As," or the equivalent, to download file (0.6MB). Please be sure that your pop-up blocker is turned off.