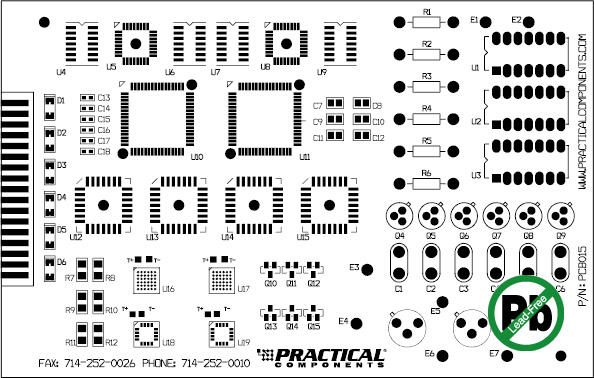 PC015 LEAD FREE Rework Kit - 2 Populated PCBAs & Parts
SKU

PC015-01-RWK-RevB-LEADFREE
Price $95.00

95.00
More Details
Related Items:
PC015 LEAD FREE Rework Kit - 2 Populated PCBAs & Parts More Details
The PC015 Lead-Free Rework Kit is ideal for rework training or to evaluate current rework procedures. This kit contains 2 fully-populated lead-free soldered boards, and enough components to repopulate the boards after the removal of components.
This kit conforms to the IPC 7711/7721 revision B standards for reworking. If training to IPC 7711/7721 Revision C, please see the new revision C rework boards that comply with new requirements. It contains a wide range of components from Through-Hole to Chip Scale. Each kit is conveniently boxed with all components individually bagged and labeled for easy identification. Forget looking for scrap boards to train on!
In stock and ready to ship, this kit is perfect for classroom settings.
PC015 Rework Kit Assembled
Part Number
Quantity Per Kit
PCB015-Assembled
2
LQFP64-14mm-.8mm-2.0
2
LQFP44-7mm-7mm
2
PLCC28T
4
SOT23
6
0603SMC
6
0805SMC
6
1206SMR
6
SOD80-Melf
6
SO14GT-3.8mm
4
1/4-W-AR
6
CK05
6
CK05 Spacer
6
DIP14
3
TO5
3
TO18
6
TO5/18 Spacer
9
Kit Order Number:
PC015-01-RWK-RevB
Related Items: