IPC J-STD-004B Requirements for Soldering Fluxes
SKU

J-STD-004B
Price $148.00

148.00
More Details
Related Items:
IPC J-STD-004B Requirements for Soldering Fluxes More Details
This standard prescribes general requirements for the classification and characterization of fluxes for high quality solder interconnections. This standard may be used for quality control and procurement purposes. The purpose of this standard is to classify and characterize tin/lead and lead-free soldering flux materials for use in electronic metallurgical interconnections for printed circuit board assembly. Soldering flux materials include the following: liquid flux, paste flux, solder paste, solder cream, and flux-coated and flux-cored solder wires and preforms. It is not the intent of this standard to exclude any acceptable flux or soldering material; however, these materials must produce the desired electrical and metallurgical interconnection. 20 pages. Released November 2011.
Preview the table of contents .pdf file.
Related Items: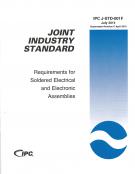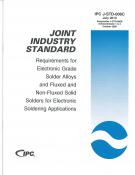 PCB Assembly Training Materials Bundle
The PCB Assembly Training Materials Bundle includes all Instructional Training Materials relevant for teaching students working in PCB Assembly.
SKU TM-PCBABUND
Price $1,075.00